Conviasa want to fly to Ecuador, again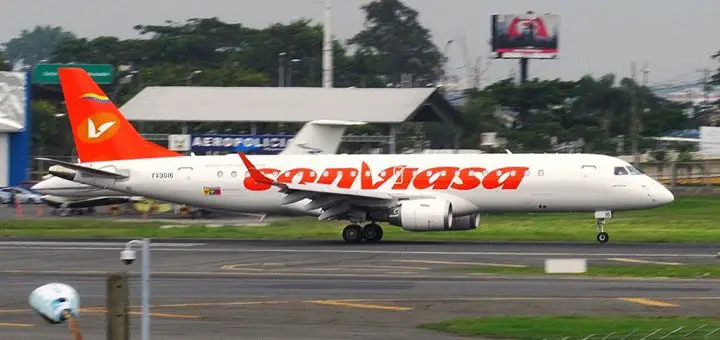 Rate this post:
In recent days it was made public in some Venezuelan digital media clearly intended that Conviasa want to fly to Ecuador, but not the first time you do it.
Pictures that accompany the post: by Iñaki Calvopiña - Twitter: @iccparla
Venezuelan media after the start of operations Venezuelan flag airlinebetween Porlamar - Isla Margarita Santiago Mariño Caribbean and Panama Tocumen International Airport, they commented that during that press conference, said Conviasa expansion plans that will from this island paradise.
Creating a HUB in Margarita Island, Conviasa plans to expand operations to Lima, Buenos Aires and Guayaquil or Quito. As noted, the order of opening routes Lima would be first, followed by Quito or Guayaquil and followed by Buenos Aires, where he stopped flying 3 months ago.
Although it was indicated that the intention of the airline is flying to all these destinations with its fleet of Embraer 190LR classic, which has 15 planes, but 5 are stored for lack of funds to make them fly. Despite the intention of flying with these airplanes, their autonomy is restricted, so that direct flights would only be to Lima, Quito or Guayaquil, while for Buenos Aires, would have to make a scale, possibly, given the current operation of the airline, could be in Manaus, Brazil or directly in Lima, whatever the case and stop may not be direct because it exceeds 2,450 nautical miles autonomy.
Conviasa flights to Ecuador
Conviasa operation - Consorcio Venezolano de Industrias Aviation and Air Services to Ecuador is not new. In 2011 on 15th August and for a short period, the airline offered flights between Caracas and Guayaquil, then flying with the classic Boeing 737-200 "Little Pigs". They have also been several opportunities where the airline has indicated its intention to return to Ecuador, so far without concrete.
For the short period of operation, the airline flew from Caracas to Guayaquil at 18:30 and returning from Guayaquil at 09:00 the next day with a promotional fee of $ 376. The operation was very short and only a few flights, which subsequently have been suspended due to problems of overflight permission in Colombia and that's when Tame began operating the flights on behalf of Conviasa to be held on 16 September that 2011, following the accident at the Old Quito's Mariscal Sucre Embraer 190 Tame HC-CEZ, the operation was finally suspended.
Similarly, aircraft Conviasa Embraer 190, are seen fairly regularly in Ecuador, especially in Quito, where fly charter manner delegations of the Venezuelan government, also operating to oil companies or presidential plane Venezuela for appointments leaders taking place in the country.
The new proposal is to fly from one or if not, the tourist destination of Venezuela, Margarita Island. While the details of frequencies and schedules are not known, unofficial information indicates that these could start soon, this would be since 15 November. Given the destination, the airline would be looking transporting tourists and partnerships with travel agencies and the same subject, one can speculate that the frequencies would not be more than 4 per week given the origin and population of Margarita, although it could feed path from other destinations of the airline.
Despite the promptness of this possible start in public records requests for operations has not found any application for the airline to fly to Quito or Guayaquil, or regular or charter. Another possibility is that the airline still hold a permit active operation and renewed since 2015 and which has not been published.
However, the earliest way with what Conviasa could fly to Ecuador is under the charter modality, whose permits are generally more flexible and quick to get.
Frequencies and routes of Conviasa
We will update when more information officially or have their website, if they were to materialize this new project led by the new management of the airline.
Remember that the airline currently has no international flights following the operational crisis first half of the year, which stopped flying to Madrid and later to all international destinations and now in this new stage and administration seek to resume international position won in the time.