ICALPILOT new school will fly in Latacunga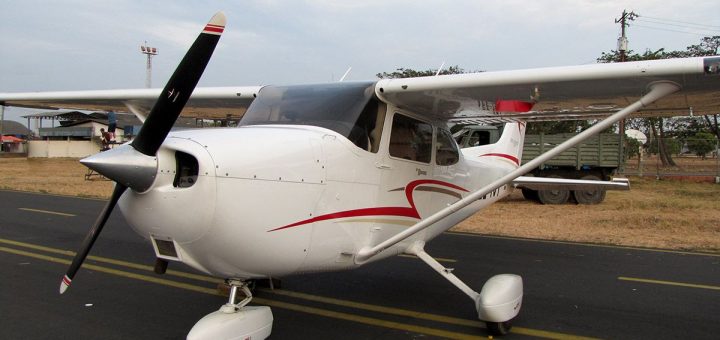 Rate this post:
The newpilot training center ICALPILOT will fly in Latacunga, Cotopaxi near future according to official sources.
It was not many months since the DGAC - Directorate General of Civil Aviation of Ecuador announced in July that a new aviation school in Ecuador it was authorized to start operations and begin to fly based alternative airport Cotopaxi Latacunga for this has not yet had its operating permit aerial work for initial training school for pilots airmen: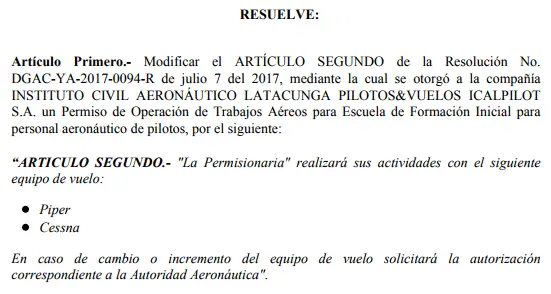 In the operating permit, it clarifies that the school initially will fly Cessna and Piper aircraft from its base of operation and maintenance in Latacunga, making it the first company of this type to operate in Latacunga training flights. Previously, the pilot school Icaro conducted some training flights at the airport, but not as a base.
The operating permit for ICALPILOT is valid for two years from July 7, 2017.
The company is based on the city of Ambato and wholesalers equity owners, according to the Superintendency of Companies are Captain Alvaro Fernando Jacome Amores Amores Gagliardo and Valery Shisela. The corporate name of the company is Civil Aviation Institute Latacunga Pilots & Flight Icalpilot SA
It was learned that his lectures the would perform in Quito, while practical training as already said, in Latacunga, what makes it the closest option for future pilots living in the capital Quito, where practical training from the cierrre Old Quito's Mariscal Sucre no longer performed and Icaro was also the last school to operate flights.
ICALPILOT Fleet School
While still no more details of its fleet is known, details the use permission of Piper and Cessna airplanes, which must have specially adapted engines and powered for operation in the 2,800 meters from Latacunga Airport.
It will continue to be updated with more information about this new school as they become available.