Ready the first Dash 8 Avioandes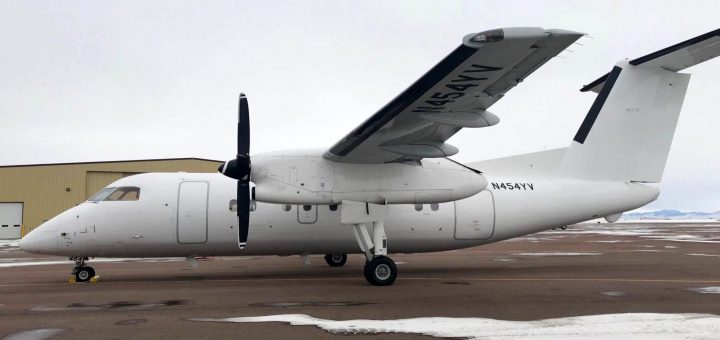 Rate this post:
It was learned that it is ready the first Dash 8 Avioandes and details of their arrival in Ecuador are preparing in Calgary, Canada from where the flight to Quito undertake prepared for the next few days-weeks.
The first aircraft Avioandes N454YV currently has registration and was manufactured in 1997 having 21 years of age currently since its first flight. With serial number MSN 454 was manufactured in Toronto Downsview and even before being leased by Avioandes was stored in Montana, United States since July 29, 2016.
This aircraft previously operated in the state airline unidense Mesa Airlines operating flights from United Express. For 2011 the plane went to the Peruvian airline LC Peru in which he flew for 5 years throughout the network of domestic destinations this company.
Configured to carry 37 passengers in a single class, is powered by two motors 2x PW100 / 150 and this is the plane with the Ecuadorian company starts its incursion into the operation of aircraft under the charter mode between Quito and the Amazon city of Coca and subsequent destinations are covered.
With Ecuadorian registration HC-CSY arrived March 5, 2018 to Latacunga Cotopaxi International Airport from Panama after a 4 hour flight the first Dash 8 Avioandes.
about Avioandes
Avioandes is a company that offers the service of private transport and helicopter air taxi, as the main line of business by carrying freight and personnel for the mining and oil sector. Its services also offers tourist flights throughout the Ecuadorian territory and have recently started flights of this type in the Ecuadorian Andes.
In addition, the company also has certification for aircraft maintenance and related activities at its main base in El Coca.
The company is certified to operate throughout continental Ecuador and the Galapagos Islands. Ttiene over 9 years of experience in the market and the start of charter your Dash 8, expects further be released in the market and generate new revenue to allow it to consolidate its growth in the country.