Historic airlines: Ecuatoriana de Aviación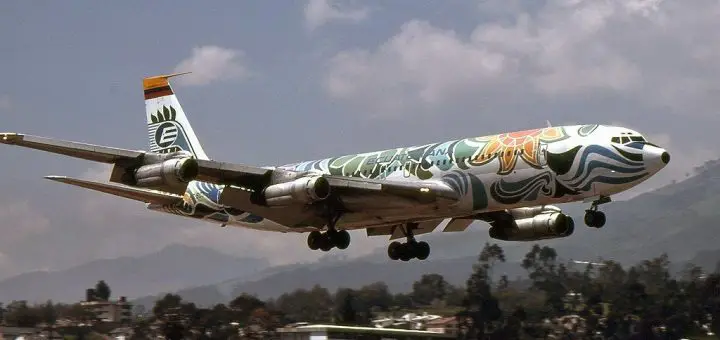 Rate this post:
Welcome to a series of special deliveries. In this space we'll start talking about historical Ecuadorian airlines and start with the most representative of all the Ecuatoriana de Aviación disappeared.
Made by:Aviation historian Guido Chavez staff and other sources of information.
Photographs:Guido personal archive Chavez, thanks to the authors.
Ecuatoriana de Aviación
"Pride Grande do our"
Background
Ecuadorian Aviation (IATA: EU, ICAO: EAA) was founded on February 1, 1957, as a flag carrier for EcuadorIn its beginnings with private capital, belonging to the consortium owned by US Clarense Shelton, where airlines TAN of Honduras and Peru APSA of all missing also included. Subsequently bought by Ecuadorian businessmen before being nationalized by the ruling dictatorship in 1974.
Between 1996 and 2006 it operated as a private company again, until its final collapse in 2006 after a series of financial problems and erroneous administrative handling.
Ecuador during its history was the most representative airline in the country and world renowned for its warmth of service that became an icon and example in his time.
From Quito and Guayaquil airline flew to Miami, Los Angeles, New York, Chicago, Nassau (Bahamas), Mexico City, Panama, Caracas, Bogota, Cali, Lima, Santiago and Buenos Aires, which makes it to the present in Ecuadorian airline that more routes and international presence has had in history, having missed only fly to Europe.
During the operation, his focus was operated international flights and domestic flights in Ecuador only in its infancy, but it was an airline that fueled its international flights with other airlines routes of the time.
Romantic Epoch Piston
Ecuadorian covered Stub the country and possibly some international connections initial fleet consisted of two Curtiss C-46A HC-ABQ and F HC-AMD and Douglas B-23 Dragon modified to passengers in VIP configuration, known as Santa Victor its registration HC-APV even flew this plane as a presidential plane to subsequently operate as a business jet in the transfer of management of oil to destinations within Ecuador.
This aircraft is still preserved in the Ecuadorian Air Force Museum, one of the few survivors of this kind in the world.
Moreover aircraft fleet piston was made by Douglas DC-4 everlasting and type DC-6 variants A and B began to arrive from 1959.
The first primarily for the carriage of cargo especially the East and the rest mostly for passengers should be noted that for the Ecuadorian time and covered international routes such as the US, Colombia, autonomy must be considered aircraft then that obligatorily should stopover in Panama. For the year of 1969 in the old track military detachment of Santa Cecilia there was a product accident mishandling of the load the DC-4D HC-ANP carrying, dynamite, causing a fire and total loss of the aircraft luckily no human losses to lament, one year later on April 14, another DC-4D HC-AON crashes with total loss in the phase of takeoff from the airport in Miami due to improper handling of subsequent procedures takeoff coupled with reduced visibility due to fog.
Throughout the operational life of Ecuadorian these two were the only accident that the company had.
DETAIL OF AIRCRAFT FLEET PISTON OPERATED BY THE COMPANY
| | |
| --- | --- |
| AIRPLANE | REGISTER |
| Curtiss Wright C-46 A | HC-ABQ |
| Curtiss Wright C-46F | HC-AMD |
| Douglas B-23 Dragon | HC-APV |
| Douglas C-54D | HC-ANP |
| Douglas C-54 | HC-AON |
| Douglas C-54 | HC-ARG |
| Douglas C-54A | HC-ARK |
| Douglas C-54U | HC-ASC |
| Douglas DC-6 | HC-ADJ |
| Douglas DC-6 | HC-ADU |
| Douglas DC-6 | HC-ADJ |
| Douglas DC-6 | HC-AIO |
| Douglas DC-6 | HC-AIT |
| Douglas DC-6 | HC-AMF |
| Douglas DC-6 | HC-AMZ |
| Douglas DC-6 | HC-ASC |
| Douglas DC-6 | HC-ATR |
| Douglas DC-6 | HC-AVF |
| Douglas DC-6 | HC-AVR |
Then be used to buy substitutes aircraft as a source of spare parts to that the large number of aircraft must Douglas that while Ecuadorians were registered but not all flew for the company.
In early 70s the company suffers the first attempted kidnapping, because of the communistic fever of those years as a professor at the Mirror school tries to hijack a DC-6B, foiled by the quick action of the crew and early intervention commands FAE unfortunately hijacker shot dead the only victim of this incident.
Turbo propeller era
Since 1967 and because of the need to be competitive and given the obsolescence of the Douglas fleet renewal starts, seven aircraft Lockheed L-188A Electra that operated until 1972. aircraft designed for short and middle routes are acquired, with obviously these new aircraft service and improved flight times, served both within national territory DROUGHT route - Segu - Sequ and internationally to destinations such as Cali, Bogotá, Panama and Miami. At that time, Ecuador had its own hangar for its operations in Miami.
DETAIL OF AIRCRAFT FLEET turbopropeller
| | |
| --- | --- |
| AIRPLANE | REGISTER |
| Lockheed L-188A Electra | HC-AMS |
| Lockheed L-188A Electra | HC-ANQ |
| Lockheed L-188A Electra | HC-AQF |
| Lockheed L-188A Electra | HC-AVX |
| Lockheed L-188A Electra | HC-AYL |
| Lockheed L-188A Electra | HC-AZJ |
| Lockheed L-188A Electra | N-738C |
Electra remaining two were sold to the state company TAME when Ecuador renewed its fleet and entered the jet age product of the nationalization of the company.
Second Kidnapping in 1969
On January 19 of the year indicated, the Electra registered HC-AMS, was kidnapped by an armed commando 10 hijackers, who led the 77 passengers and 8 crew bound for Cuba. The plane, coming from Quito, stopped in Guayaquil, was kidnapped in the latter airport, carried Barranquilla to refuel and continue the flight to Havana, where he landed in the afternoon. Advantageously no victims to mourn, nationality and details of the fate of the kidnappers were recorded not known what if you could say is that they must have lived very happy in their "paradise" Communist of that time.
Nationalization and The Boeing
By supreme decree of July 31, 1974, Ecuador was declared "flag carrier" of Ecuador and became part of the Ecuadorian Air Force as a result of this entire fleet of aircraft had dual enrollment both civilian and military.
Ecuador enters the jet age. four Boeing aircraft are purchased in the United States 720 ex Pan Am, all these aircraft sported a single scheme because they were painted under the inspiration of master Bolivar Mena Franco and Osvaldo Guayasamin, representing the four regions of Ecuador Costa, Sierra, Eastern and Insular where the teacher reflected and represented the landscape of each region airplanes were baptized with the names of the following provinces Imbabura, Napo and Galapagos. Other aircraft also took the art and inspiration of the Ecuadorian master painter Eduardo Kingman.
Another special Boeing 707, was the Ecuadorian Cargo Jet, who wore a special and unique presentative adorned with gold paint colors of Ecuador, one of the few planes 100% freighters had a ecutoriana airline.
They later added four Boeing 707. Given the cost of maintenance of paint opted for a change in the image of them becoming the arc scheme iris, wearing these colors for many years, is at this stage of nationalization where the company could increase passenger service to other destinations such as Chicago, New York, Washington, San Francisco, Miami, Mexico, Panama, Colombia, Peru, Chile, Argentina and connections.
One of the 720 "Napo" nicknamed the lettuce by its schema, configuration had to be cargo plane and / or passengers which gave much versatility, subsequently it acquired a 707 exclusively as cargo.
During the conflict with Peru in 1981, known as the War of Paquisha. They carried out logistical missions from Quito to Guayaquil for its own dual enrollment status.
In the 90s, Ecuadorian begins to suffer the result of inadequate financial management jolts because of the excesses and abuses of an almost unmanageable and chaotic giant administrative and bureaucratic aparataje, breach of obligations coupled with the apathy of the state resulted in the bankruptcy of our line flag, so aircraft and 707 freighters were sold in Ecuador the company AECA and US companies that bought source spare parts and parts. All were eventually pitted in Latacunga, Guayaquil and the US.
Boeing Ecuadorian
| | |
| --- | --- |
| AIRPLANE | REGISTER |
| Boeing 720-023B | HC-AZP |
| Boeing 720-023B | HC-AZQ |
| Boeing 707-321B | HC-BCT |
| Boeing 720-023BF | HC-BDP |
| Boeing 707-321B | HC-BFC |
| Boeing 707-321C | HC-BGP |
| Boeing 707-321B | HC-BHY |
widebody in Ecuador
Because of the need to increase its operational capacity and in order to begin operations in Europe, Ecuadorian acquired from Swissair aircraft McDonnell Douglas DC-10-30, which operated until the second privatization this beautiful plane ended his days in Quito, the be decommissioned and dismantled. In periods of high demand the company leased aircraft type Lockheed L-1011 TriStar Alia Jordanian airline.
Subsequently it acquired new factory, two Airbus A310 in early 90s.
| | |
| --- | --- |
| AIRPLANE | REGISTER |
| Mc Donald Douglas DC-10-30 | HC-BKO |
| Airbus A-310-324 | HC-BRA |
| Airbus A-310-324 | HC-BRB |
| Lockheed L1011-500 | JY-AGC |
| Lockheed L1011-500 | JY-AGH |
New privatization and end operations
In 1993 dictates the Rehabilitation of Ecuador, which tended privatization and sale to private investors as a solution to the crisis. At the same time, the flag carrier ceases operations.
In 1995, it was capitalized and 51% of its shares passed into the hands of VASP group, which later disappeared bankruptcy in 2001 after its takeover by Lan Chile.
The operation was part of the "downsizing of the company" which included staff reductions and office closures and search for partners, which in practice was a failure. The operations of the new Ecuadorian itself started in 1996.
Product of this change, two Boeing 727-200 with registration Ecuadorian and Bolivian 727-100 with registration plus the use of aircraft in the fleet already had, such as the DC-10-30 and Airbus A310 are incorporated.
Again the schema change occurs in aircraft sporting a scheme similar to Vasp.
In times of high demand, Ecuadorian leased three aircraft: one 737-200, an Airbus A310 and another 727-200.
It is recalled that an aircraft also disappeared LAB - Bolivian Air Loyd took painted the image of Ecuador.
In the Ecuatoriana de Aviación practice it has disappeared as such. Since 2005 they have run numerous rumors about the possibility of reviving the airline, but to date has not been finalized anything.
Other Boeing in Ecuatoriana de Aviación
| | |
| --- | --- |
| AIRPLANE | REGISTER |
| Boeing 727-200 | HC-BVM |
| Boeing 727-200 | HC-BVT |
Despite its bad economic luck, the company had an excellent safety record, it did not suffer a single fatal accident throughout its international operations in the era of jet.